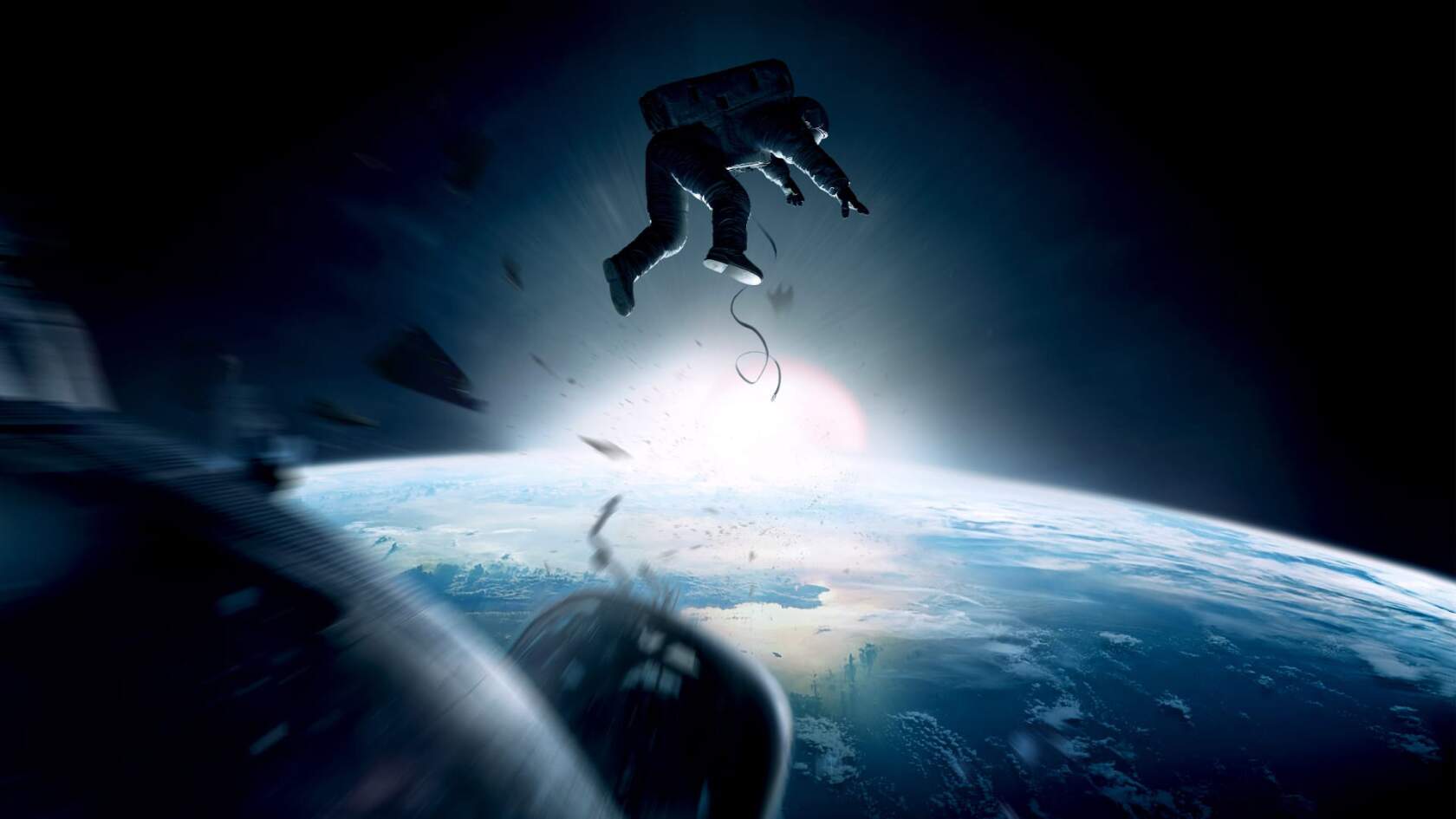 "Gravity" and Dolby Atmos
Published July 22nd, 2019
Gravity is one of those movies that I missed in theatres, but watched in 3D on Blu-ray when it first came out. I had just gotten a 3D TV and, hey, any disc with 3D was a winner at the time.
But the 3D TV is gone, replaced with a 4K TV, and so we're back to two dimensions. But… well… I'll get to the "but" shortly.
From the opening title sequence, Gravity had me. With its swift running time of 91 minutes, the pacing is spot on, and balances the action and drama, with nail-biting sequences fuelled with intensity and desperation. And then there is Steven Price's stunning Oscar-winning score, that echoes not only those pulse-racing moments, but also the emotion of Gravity's heart too.
Clearly I'm not alone either – Gravity won 7 Oscars, and nominated for 3 more including Best Motion Picture of the Year.
With the 4K TV update came a full refresh of the home theatre setup, including a ceiling-based 5.1.2 Dolby Atmos setup. If you're new to Dolby Atmos, basically the ".2" adds two additional "height" channels to the soundstage – so think surround sound, but with the addition of overhead channels – and if you want to get a little fancier, a ".4" would add 4 channels. I was lucky to be allowed to cut 2 holes in the ceiling so didn't want to press my luck.
When the home theatre was set up, the number of Atmos titles was rather small – the Apple TV didn't support Dolby Atmos content, and content was limited to very select Blu-ray and UHD Blu-ray discs.
Gravity was one of those titles. But with a caveat: there was only one version that included the Dolby Atmos soundtrack, and was the US-exclusive Diamond Luxe edition.
Thankfully, Warner had made this release region free, so the hunt was on, and luckily eBay delivered, albeit at a cost: one Diamond Luxe headed my way for the sum of nearly $60AUD. Yeah, you really need to love a movie to splurge like that.
The Diamond Luxe packaging is gloriously luxe: a magnet-closed book-style folio with panoramic visuals and containing two discs: the film on one, and special features on the other. While great to touch, not the most durable packaging.
It was time to insert the disc to give the new home theatre setup a test.
To this day, Gravity is *THE* demo disc for Dolby Atmos.
The opening beats of the score start the process, with the introductory titles, building with a crescendo that adds punch to its depth – the effect is borderline assault on the senses and demonstrates how powerful the sound stage can be pushed to create directional (and powerful) effect.
The soundstage is exceptionally used, specifically in the opening sequence where we are placed in the centre of a three-dimensional soundstage with voices strategically placed all around you – including above you – creating a seamless experience with the sweeping and fluid nature of the film's opening.
The score utilises the space (and height) to help add intensity to beats, and at times, swells and drives the film forward. Just like how the film started with that "punch", the finale elevates the score, depth, height and width of the soundstage, and leaves you with one final "whump" before you leave.
It really is an experience that words can't describe. This Dolby Atmos soundtrack is dynamic, crystal clear, creative and insanely powerful. Paired with the film itself, including its glorious yet truly frightening visuals and superb dramatic character piece, the Dolby Atmos treatment adds an entirely new level of immersion – and one that doesn't need 3D glasses.
If you're ever in the neighbourhood and want a demo, let me know.
Next up, Warner, I'd love a 4K HDR (or Dolby Vision) mastered version, with the Dolby Atmos soundtrack. Heck, if you really want, why not offer the IMAX render too, for a choice of the 2.39:1 theatrical aspect or a full frame IMAX. Just don't forget that Dolby Atmos soundtrack.
---
Side note: nearly three years on from the initial home theatre setup, there is now an increasing amount of Dolby Atmos content available with more UHD Blu-ray releases and Dolby Atmos support on the Apple TV (through lossy Dolby Digital Plus) – but just because a film has Dolby Atmos doesn't mean it will take full advantage of those height channels – so don't go in to Atmos expecting every film to be quite as aurally engaging.